From October 7 to 9, JPP ERA-Net SES invited to its Smart Energy Systems Conference 2019. Among the memorable highlights, the diverse perspectives brought in by the
varied expertise represented
in the panel discussions on smart energy solutions for today and tomorrow stand out. Furthermore, the matchmaking session with over 80 pre-scheduled meetings of potential consortium partners took drafts for proposals to a next level - just one day after the European Launch.
For this event, we closely cooperated with E.DSO and EASE. Further partners are from the global Mission Innovation Initiative (MI). Service Public de Wallonie offered kind support by hosting the event in Namur, Belgium.
Please find the full documentation of the public sessions here. Watch videos of selected sessions on youtube here.
Click here to view the event announcement. If you are interested in the event review of the ERA-Net SES Family of Project event held in the framework of the conference, take a look at the event review here.
Day 1, October 7 | Status Conference and Launch of the Joint Call 2019
The Joint Programming Platform Smart Energy Systems (JPP SES) Conference 2019 started with a first of its kind conference with public pitches on the outstanding results of the first cohort of ERA-Net Smart Energy Systems projects ready for exploitation in front of an expert panel.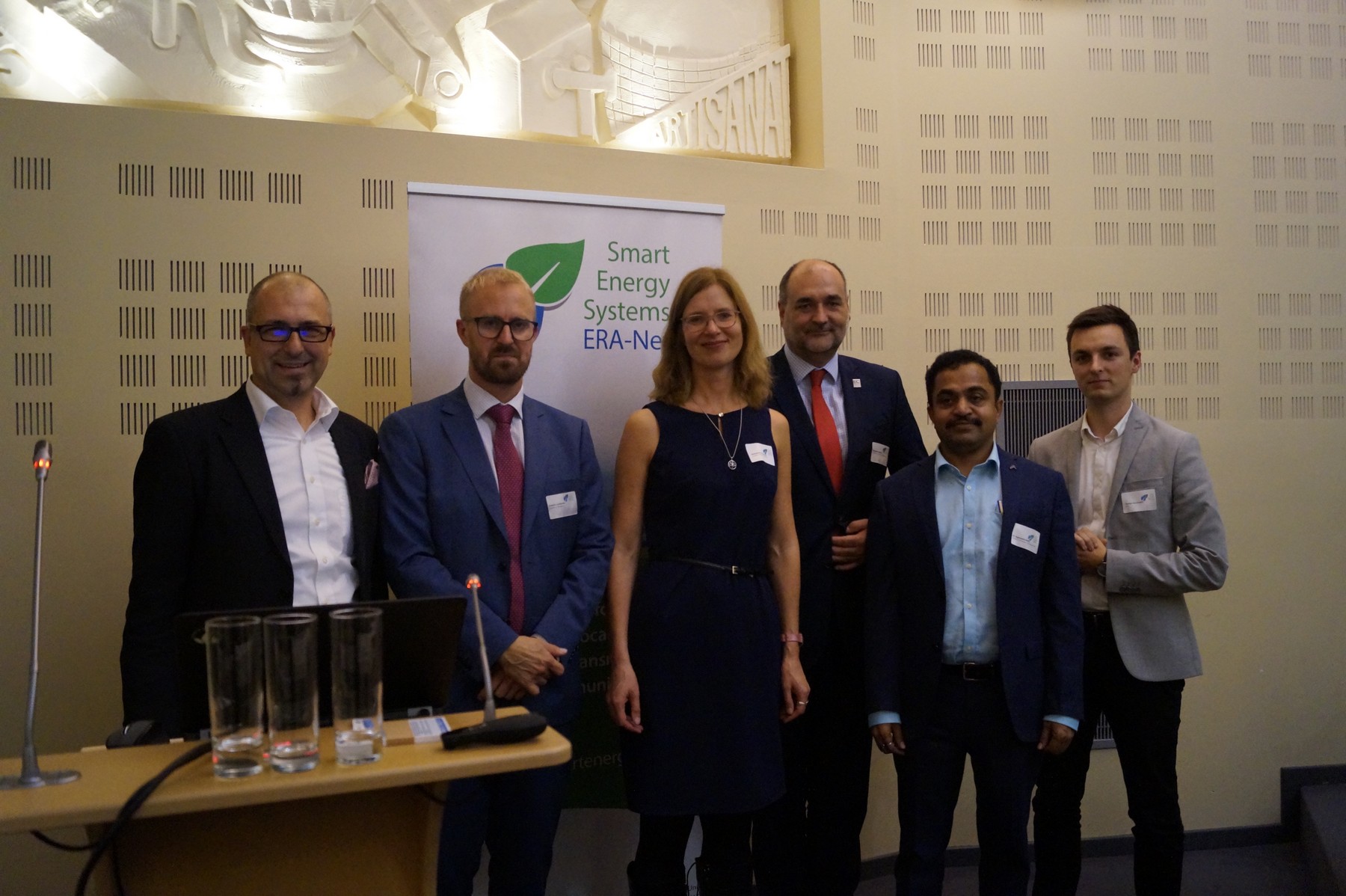 The ERA-Net SES Coordination Team (Michael Hübner and Fredik Lundström) with Aleksandra Kronberga (European Commission, DG Ener), Richard Vidlicka (E.DSO), Dr. Raghunath Reddy (Indian Ministry of Science and Technology) and Thomas Otuszewski (EASE) (fltr).
For the launch of the Joint Call 2019 on energy storage solutions for research, development and demonstration projects (MICall19), key stakeholders joined. Among others, Aleksandra Kronberga of the European Commission, Dr. Raghunath Reddy from the Indian Ministry of Science and Technology, Richard Vidlicka from E.DSO and Thomas Otuszewski from EASE gave inspiring input. Find all information about the call on our website.

Our panel with (fltr) Zsuszanna Bodi (ENoLL), project members Bartlomiej Arendarski, Lars Olsson and Ewa Piatkowski; Josh Roberts (REScoop), Gaëtan Masson (Becquerel Institute), Jan Gilot (Flux 50) and Urban Peyker (FFG, not in the picture).
Day 2, October 8 | Matchmaking, Knowledge Community Meeting and Working Dinner

Tuesday morning started with matchmaking for the Joint Call 2019 on energy storage solutions (MICall19) launched the day before. For starting multinational consortia building and co-creating project proposals addressing aspects of replicability and transferability in the development of integrated energy storage solutions, more than 78 face-to-face meetings took place.
Join the dedicated ERA-Net SES matchmaking platform for the Joint Call 2019 and continue matchmaking online with more than 160 registered people from 21 countries.
After an introduction to the updated online documents on expera, the Knowledge Community Meeting offered in-depth exchange in Working Group Meetings with peer-to-peer feedback sessions:
System Architecture and Implementation Modelling & Standards and Interoperability
Regulatory and Market Development
Storage and Cross Energy Carrier Synergies
Consumer and Citizen Involvement
Regional Matters
After a city tour, during the working dinner, experts exchanged beyond working group borders and expanded the ERA-Net SES puzzle by adding a piece for each new project.
Download the Full Documentation
Download more insights regarding the sessions (conference minutes) as well as the presentation slides of the public Status Conference, Launch of the Joint Call 2019, Matchmaking Session, Knowledge Community Meeting and Working Dinner.
Varied Side Events
The conference was enriched by varied side-events. Available reviews of the following adjacent meetings will be linked to here:
Associated Partners' Meeting (7 October, 10:00-13:00)
National Stakeholder Coordination Group Meeting (8 October, 9:00-13:00)
New focus initiative on digitalisation of the energy system (9 October, 16:00-18:00)
Family of Projects Meeting (9 October, 9:00-15:00).
ERA-Net Smart Energy Systems is a Joint Programming Platform (JPP) of 30 national and regional funding partners financing transnational RDD projects and co-creating energy system innovation with additional stakeholders for implementing the European smart energy system vision. Since 2014, the network has been growing up to 30 funding partners from 25 countries.
BACK TO NEWS OVERVIEW