ERA-Net SES provides a sustainable, reliable and efficient management structure for multilateral joint programming. The ERA-Net SES Steering Board and Management Board provide the framework for joint planning, decision making and collaborative implementation of joint calls and joint activities. The ERA-Net SES Coordination supports the partners in strategy, decision making and governance, cooperation of programs and partners, communication and dissemination, organisation of joint calls, contractual and financial management. Beyond that, ERA-Net SES is well coordinated with the European SET-Plan Action 4 initiatives.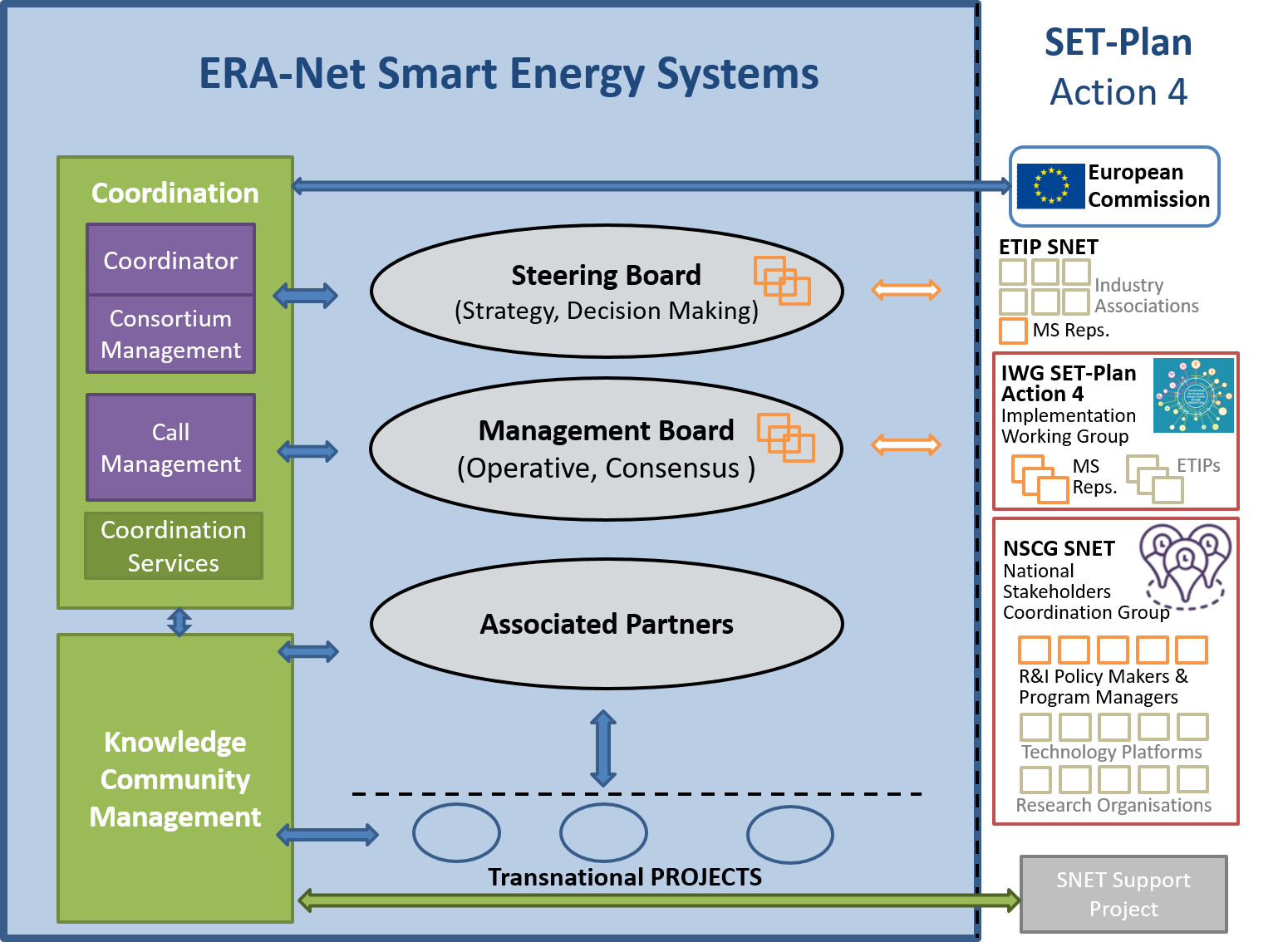 ERA-Net SES Management Structure
ERA-Net SES Steering Board
Responsibilities:
decision making
strategy and planning
set and monitor quality standards
supervision of finances
ensure allocation of national/regional budgets
ERA-Net SES Management Board
Responsibility : preparation and implementation of joint calls
ERA-Net SES Associated Partners
Coordinator
Responsibility:
strategic coordination of the overall network
representation of ERA-Net SES and coordination with European Commission and SET-Plan initiatives
legal and formal aspects
Department of Energy and Environmental Technologies
Coordinator: Michael Hübner
Consortium Management
Responsibility:
financial and contractual management
operative coordination support
Call Management
Responsibility:
develop and implement procedures and content of joint calls for proposals, together with the ERA-Net SES Management Board
Fredrik Lundstrom
Karina Barnholt Klepper
Coordination Services
Responsibility:
internal and external communication
internal coordination support
ERA-Net SES Office: Helena Geisler, Laura Börner
Scientific Support : Rainer Bacher
Knowledge Community Management
Responsibility:
organising the Knowledge Community together with RDD project consortia and international experts
implementing Co-Creation on Program Level together with associated partners
Head of Knowledge Community Management: Ludwig Karg
Consulting: Michele de Nigris
Coordination with SET-Plan Action 4
exchanging information on activities in member states
transferring information and knowledge forth and back between the stakeholders on national and regional level and the expert working groups of ETIP SNET

4

reflecting and commenting from a national stakeholders perspective the outcomes of the expert working groups of ETIP SNET4
and
providing a platform for ETIP SNET4 to find partners and experts from national level that are ready to contribute to the ETIP activities, working groups and projects.
The NSCG is chaired by European member states, together with the European Commission and the Chairs of ETIP SNET. ERA-Net SES is supporting and co-organising the NSCG.