We had insightful discussions during our event on "PEOPLE THE REAL FUEL IN THE ENERGY TRANSITION", which was organized in the framework of the European Sustainable Energy Days. Have a look into the results and watch the session recordings. The presentation and slido results can be found on expera (if you are not a member yet, you can register for free)
Background
To decrease Europe's dependence on fossil fuels, the voices for a rapid clean energy transition have never been clearer and stronger. Local actions, e.g. energy saving measures or prosumer activities, taken by citizens and consumers are crucial for the clean energy transition. Transnational technology and innovation programs can offer a strong platform for generating research, development and innovation actions, which can be adopted by municipalities, their utilities and citizens.
National states establish the overall framework for citizen participation in the energy system. However, municipalities are the closest to citizens and have the power to offer significant incentives through land use planning and development contracts. By setting an example and using effective communication, they can encourage citizen participation. If permitted by the legal framework, municipalities can join energy communities or even take on a leadership role. Regardless, it is crucial for them to understand the needs and expectations of various stakeholder groups in their community.
Agenda
Moderation
The session was moderated by Andreas Corusa, JPP SES Knowledge Community, (B.A.U.M. Consult GmbH),
Key Note
The session kick-started with the key note by Prof. Cecilia Katzeff, Associate professor in human-computer interaction, KTH Royal Institute of Technology, Department of sustainable development, environmental science and engineering. Based on her research she presented expectations of households in the clean energy transition including stories from homes of the smart grid.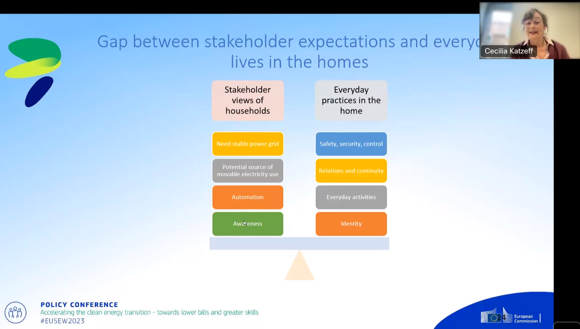 Characterizing the stakeholders of the future energy system – Results of a survey
Minna Kuivalainen from Smart Innovation Norway and representative of the BRIDGE Working Group Consumer and Citizen Engagement presented the latest interim results of a stakeholder survey, which characterizes the key players in the energy system. The survey is still open and you are more than welcome to fill out the survey.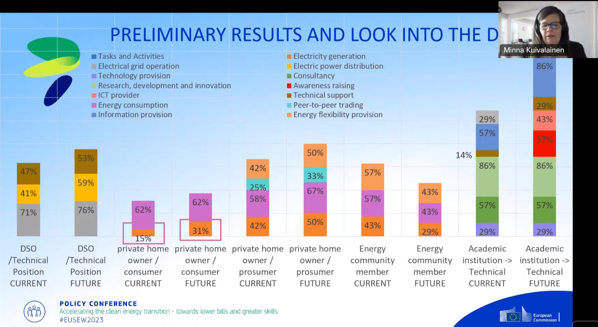 Panel Discussion
A panel discussion followed on People - the real fuel in the Energy Transition.
It started with 99 seconds presentations by the following speakers:
Dr. Claire Bergaentzlé from Technical University Denmark presented an open-source decision support platform for local energy systems developed in the JPP ERA-Net SES project FlexSUS. It compares and analyses transition scenarios for local energy systems and thus, supports city planners in gaining knowledge and taking informed decisions. The tool can be applied to different cities.
Dr. Sabine Rödel, mayor of the City of Bad Hindelang in the Alps in Germany showcased her city including local energy cooperative founded 100 years ago. The city has long experience with renewable energies, especially water renewables. In her opinion, a clean energy transition can only take place if citizens are convinced. This can only happen through energy price stability, participation in energy decisions and if local suppliers and municipalities can ensure energy supply to become independent.
Kristina Starborg from Swedish Energy Agency and representative of the Clean Energy Transition Partnership, which is a multilateral and strategic partnership of national and regional RDI programs in EU/EEA Member States and non-EU/EEA Partner Countries. It focuses on different thematic areas. She is representing the Transition Intitiative 5 focusing on Integrated Regional Energy Systems, where need owners drive the energy transition. This includes Research and Innovation projects (R&I), which may focus on local energy and climate plans or projects which test their results in local living labs. The upcoming call will be launched on 13 September 2023 and a pre-call announcement event (What's in it for me?) will take place on 7 June. Please find more information here.
The panel discussion includes the main take aways:
Balancing the preservation of nature and historical buildings while promoting the transition to renewable technologies is crucial.

Raising awareness about the importance of transitioning to renewable technologies is essential for driving change.

Providing low-cost energy creates incentives for people to adopt renewable energy sources.

Understanding the economic status of neighborhoods helps tailor renewable energy services and optimize adaptation.

Behavioral change requires more than just knowledge; automation and real data can influence consumption patterns.

Active involvement in the energy transition, such as producing one's own energy, fosters commitment.

Energy communities play a significant role in changing behavior and increasing engagement in renewable energy.

Building trust in energy communities is a challenge that can be addressed through local actors and effective communication.

Involving multiple stakeholders and incorporating their input in policymaking helps build trust and collaboration.

Technology development should align with people's culture and needs to ensure adoption and acceptance.

Considering the carbon footprint of technology and assessing its value in relation to adoption is important.

Aligning organizational and stakeholder values is crucial to avoid conflicts and ensure project feasibility.

Establishing a platform for sharing vision and values enhances project outcomes and community impact.

Incentives such as financial benefits, sustainability, and transparency are key to engaging citizens and consumers in renewable energy initiatives.

As a wrap up of the session, we asked the audience what the major incentive to engage citizens and consumers in the energy transition is. This is the result: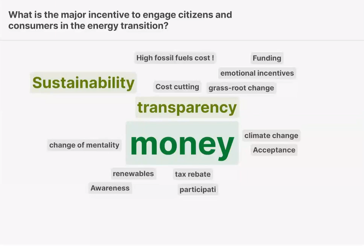 Further poll results are available in the slides on expera.
You missed the session? Have a glimpse into the recording of the session:
BACK TO NEWS OVERVIEW