On September 28 2020, the Joint Programming Platform Smart Energy Systems (JPP SES) hosted a side-event to the 5th Mission Innovation Ministerial. Please find a web stream of the first part of the session on YouTube here. Click here to enter the virtual matchmaking room for the MICall20.
Accelerating the energy transition with collaborative support for RDI projects
This Side Event of the
Fifth Mission Innovation (MI) Ministerial
(MI-5) brought together public funding institutions and partners from industry and research for a strategic dialogue on cooperation for accelerating the energy transition. The event consisted of two parts, the offical
MI Side-Event
and a
co-creation workshop
for Joint Call 2020 (MICall20) and a session for representatives of interested MI members and their funding institutions.
Find the the following information here:
Official MI Side Event
Building on successful cooperation and looking into the future
In the Official MI Side Event, the future work of MI was presented and the international RDI cooperation to accelerate the clean energy transition was stressed. The session continued the dialogue between research and industry that will shape MI's strategic activities. India, as a partner of the MICall19 gave insights on their clean innovation priorities and why international collaboration RD&I is important for India. Building on last years's successfull event on integrated energy storage solutions, first results of the MICall19 (on integrated energy storage solutions) were presented. The Joint Programming Platform ERA-Net SES announcing the multilateral Joint Call 2020 (MICall20) for cooperative RDI projects (research organisations and industry) on digital transformation for green energy transition to be launched in autumn 2020 (more information
here
).
In relation to the MICall20, the networking and matchmaking process of JPP SES Digital Platform Provider (DPP) and Living Lab Network (LL) were launched. Together the networks are building bridges in the entire innovation chain and shall accelerate the development of transnational innovation ecosystems.
10:00-10:10

Welcome and introduction

Michael Hübner, BMK Austria, Coordinator JPP SES, ETIP SNET

10:10-10:20

Mission Innovation and future work

Jennie Dodson, Head of Secretariat for Mission Innovation

10:20-10:30

Mission Innovation and the importance of International RDI collaboration for accelerating the clean energy transition

Robert Andrén, Swedish Energy Agency

10:30-10:40

Indian clean energy innovation priorities and why international collaboration RD&I is important for India

Sanjay Bajpai, Department of Science and Technology, India

10:40-11:00

Report back on MICALL19 and announcement of MICall20

Karina Barnholt Klepper, Nordic Energy Research, Call Management JPP SES

11:00-11:10

Kicking-Off the JPP SES Living Lab Network

Jatta Jussila, CLIC Innovation, Support Team JPP SES

11:10-11:20

Kicking-Off the JPP SES Digital Platform Provider

Ludwig Karg, B.A.U.M. Consult, Knowledge Community Management JPP SES

11:20-11:30

Wrap-up

Ludwig Karg
Co-creation workshop
Participation in future MICalls
Next to the official MI Side-Event, JPP SES offered two parallel sessions, one for programme owners and managers and one for need owners and researchers. The workshop on participation in future MICalls as a funding partner served to identify cooperation potentials on national and international level. Public funding institutions from all over the globe joined the discussion, among them current and potential partners in the MICall.
Moderated co-creation workshop for research challenges for MICall20
A co-creation workshop for the Joint Call 2020 (MICall20) united potential applicants with Living Labs and Digital Platform Providers to identify key research challenges for the focus areas addressed in MICall20. Together, they identified research needs and stakeholders to support the research and facilitate application. These challenges link technical, business and market operation as well as communication and serve as a basis for the Connectathon during the
JPP SES Conference
in October 2020 to match new cooperative research projects for MICall20.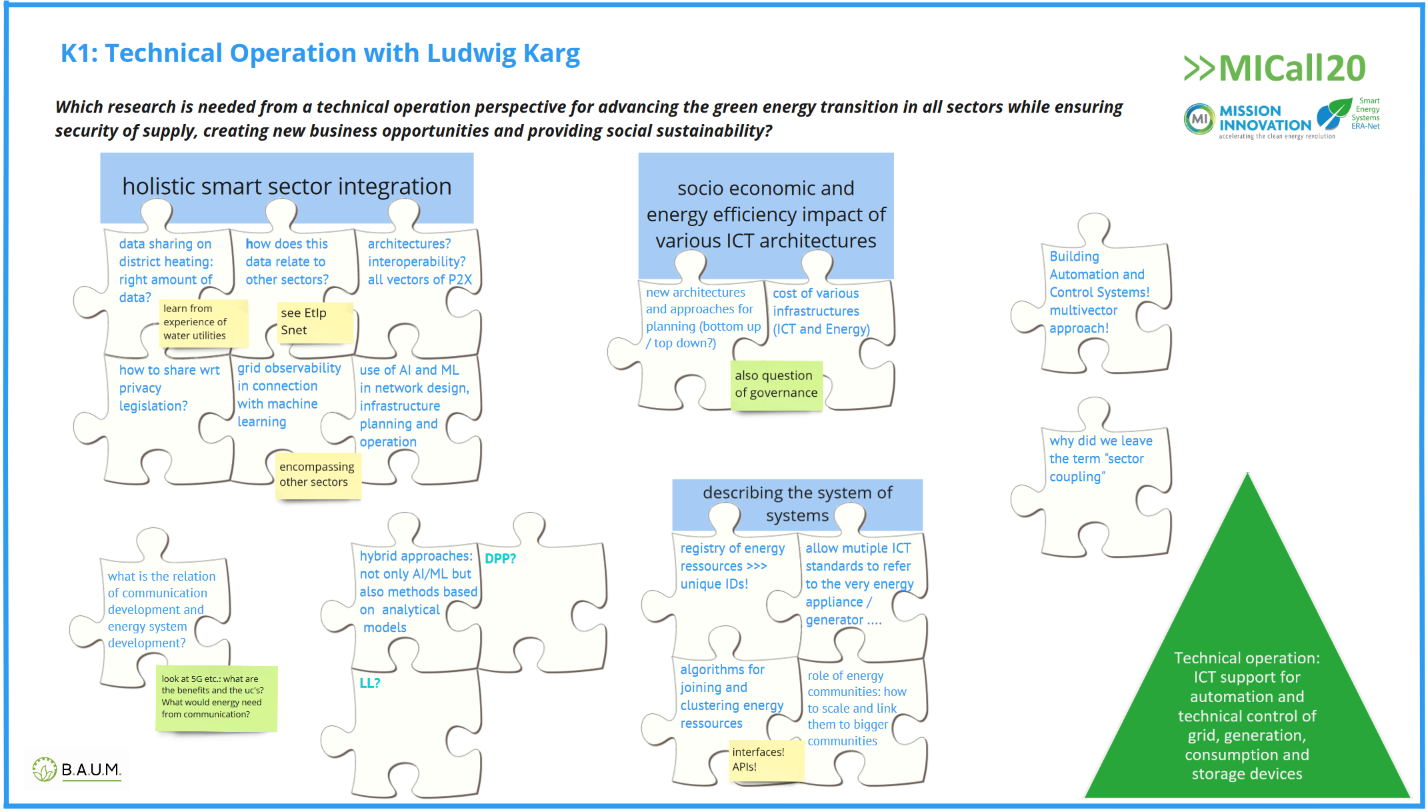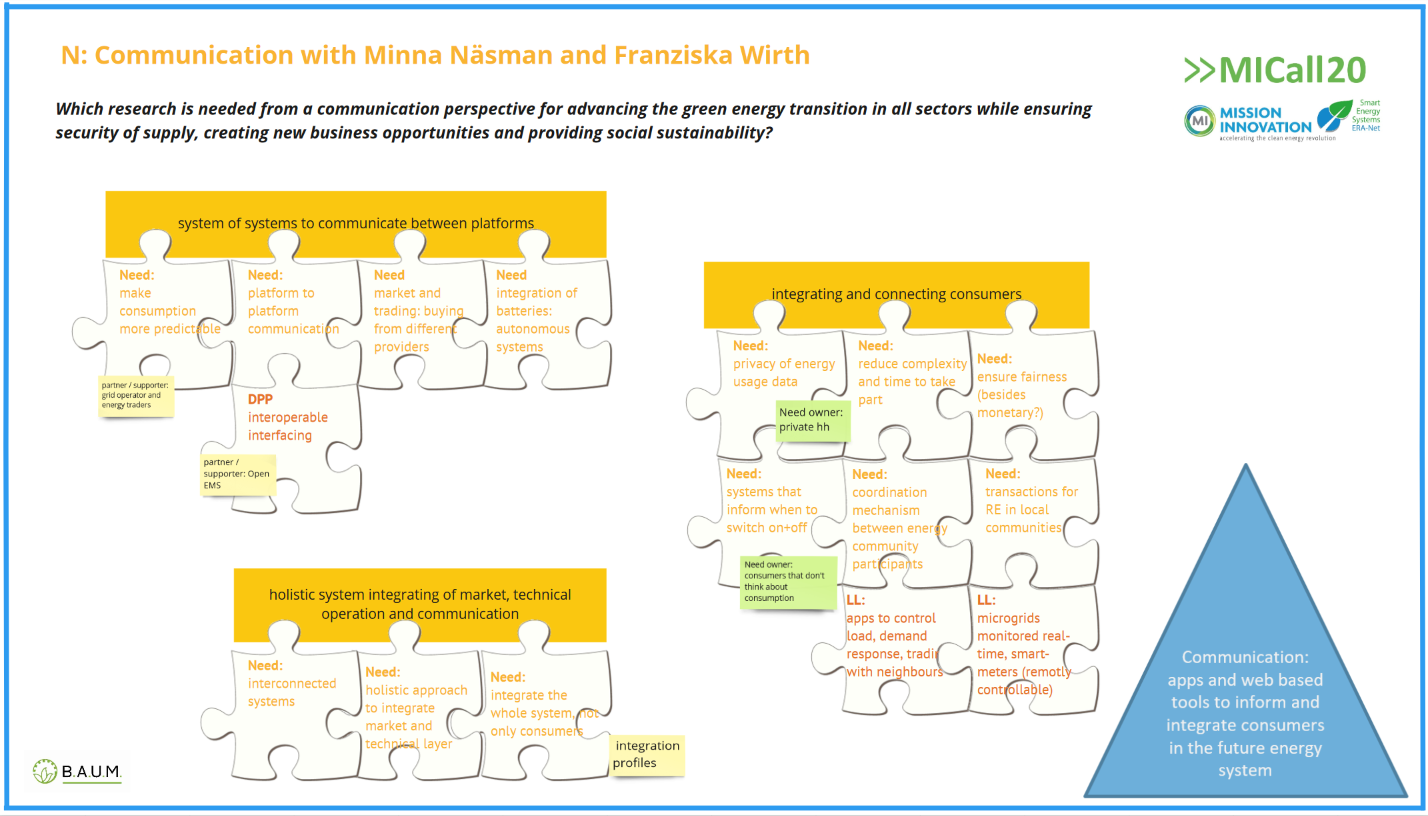 BACK TO NEWS OVERVIEW