ERA-Net SES facilitates the exchange between experts in the field of smart energy systems. Our next joint meeting of Working Groups will be held in Magdeburg on September 19, 2018 and include the initialisation of a new Working Group on Regional Matters.

About the Event
Experts in the field of smart energy systems are highly welcome to register and

meet with other experts and practitioners from the field of smart energy services

discuss cross-cutting topics and get into knowledge exchange with our Working Groups
cooperate on overlapping topics and contribute to the ERA-Net SES Knowledge Community
Venue
VDTC building of Fraunhofer IFF,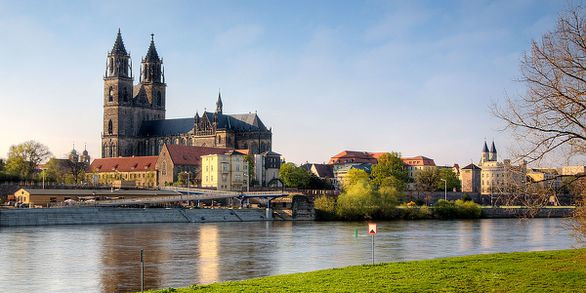 Joseph-von-Fraunhofer-Strasse 1,
39106 Magdeburg, Germany
We would like to thank our ERA-Net SES project partners at Fraunhofer IFF for their great support in hosting the event.
Registration
Please register here or by clicking on the green buttons - unless you are a member of an ERA-Net SES projects. In the latter case, please register for the adjacent family of projects event via the link sent by e-mail only, if not already done so.
Please also inform us on special dietary needs either via mail or via a comment in the registration tool.
Agenda
On September 19, 2018:
09:00-13:00,
ERA-Net SES thematic Working Groups (including lunch and wrap-up)
The following Working Groups will meet:
System Architecture & Modelling and Interoperability & Standardisation
Consumer and Citizen Involvement

Regulatory and Market Development
Storage and Cross Energy Carrier Synergies
13:00-15:00
Initialisation of new Working Group "Regional Matters"
Transportation and Accomodation
For transportation, the most convenient way to arrive in Magdeburg from abroad is by plane to one of the airports Berlin-Schönefeld (SXF), Berlin-Tegel (TXL), Leipzig/Halle (LEJ) (shortest distance) or Hannover (HAJ) (shortest distance). From all of these airports, trains will take 1,5-2,0h to Magdeburg Hauptbahnhof (Central Station).
Accommodation options in Magdeburg are, for instance: Maritim Hotel Magdeburg, Motel One Magdeburg, artHotel Magdeburg, Ratswaage Hotel Magdeburg and Dorint Herrenkrug Parkhotel Magdeburg.
BACK TO EVENTS